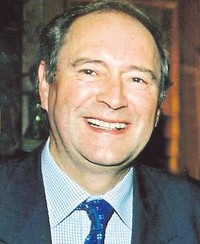 Terry Reilly is a native of Ballina, population 10,000, in North Mayo in the province of Connaught. Editor of the Western People for nearly 30 years, his first book, The Green Above The Red, (1985) written in association with the late Ivan Neill, chronicles the gamut of Mayo Gaelic games' successes. Again, rare photos as great deeds of our football heroes leap from the pages.
His second book was the official history of Ballina Stephenites' GAA Club, The Goal of Victory, published in 1986. Many rare photos adorn the pages of a work dealing with one of the most successful GAA clubs in the country.
Then followed Dear Old Ballina (1993) with foreword by President Mary Robinson. Containing over 470 pages, and laced with old photographs, the history of the town in all its facets unfolds and entertains.
On A Wing and a Prayer (2006) details the remarkable story behind Monsignor James Horan and the building of Knock Airport on what was termed 'a foggy, boggy hill' by its detractors.
In 2009 a companion piece to Dear Old Ballina was launched. Titled A Rambling Tour Through Dear Old Ballina, it sets out 14 great walks around the town, and includes such landmarks as The Workhouse, the town's bridges and famous salmon river, the French invasion of 1798, the first English channel swimmer and his links with Ballina, Parnell, O'Connell and Davitt, shipwrecks, landlords and their big houses, and Lord Lucan of the Charge of the Light Brigade. Complete with maps.
More recently from the same pen has appeared On A Wing and a Prayer, the Musical, which could be coming to a stage near you one of these days!!!
Other books are being researched, so stay in touch!
In his spare time, Terry Reilly conducts walks around historic Ballina, with the proceeds going to local charities. For full information, see Historical Walks of Ballina, bottom right this page.
Holder of a Master's Degree in Mass Communications, he is also Public Relations Officer of the Council for the West, a voluntary body that campaigns for a fair deal for the region. He is also a Media consultant. A founder member of Mid West Radio (Co Mayo Radio Ltd). Has keen interest in Gaelic games,and especially in his home club Ballina Stephenites and Mayo; was voted National GAA Clubman of the Year in 1984, and McNamee Hall Of Fame winner, 2003. Served on North Mayo GAA Board, County Board,  and Connaught GAA Council.