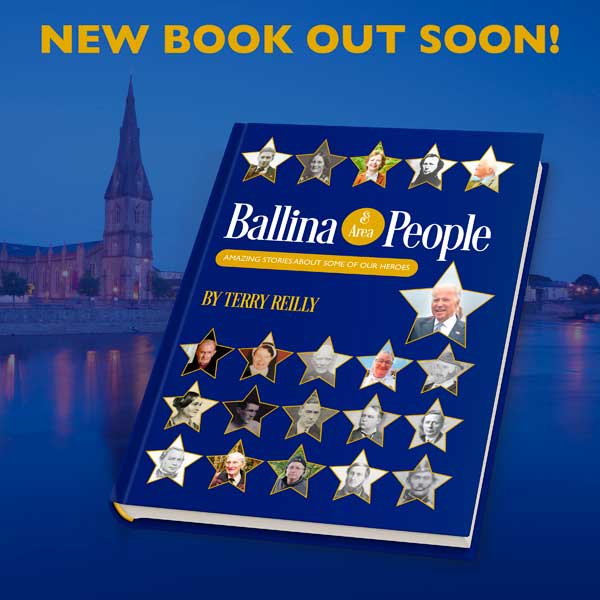 My latest book, a limited signed edition, Ballina & Area People is out mid-January 2021 and features greats who were from or are connected with the area Amongst those featured are (in alphabetical order):
President Joe Biden, 46th President of the USA

Rory Bourke, top songwriter in the USA

Bravery in WWI and India

(Patrick Hennigan and friends in WWI trenches)

Jackie Clarke and his truly amazing collection

Cyril Collins, prime enhancer of Belleek Wood

Andy Corcoran, great Stephenite captain, lost and now found

Jim Donnelly, extraordinary footballer and coach

Monsignor Fachtna Joseph Harte, builder of beautiful Florida Basilica

Dick Hearns, athlete, footballer, boxer, trainer

Pat Herbert, collector of radio oddities

Richard M. Hooley, US theatrical entrepreneur

Dr Kathleen Lynn, 1916 Rising and children's hospital

John McDonnell, most successful ever US college athletics coach

Sarah McElroy, the woman behind Sir Alexander Fleming

Sr Mary McNulty and others on mission fields

Arthur Muffeny, one of Ballina's greatest campaigners

Fr Patrick Peyton, Rosary Crusader, preached to over 28 million

Sr Alphonsus Preston, matron Ballina Hospital 

Jimmy Ralph, one of nature's great gentlemen.

President Mary Robinson,  Ireland's first woman president 

PJ Ruttledge, freedom fighter and Government Minister

William Joyce Sewell, decorated US Civil War hero

William E Shannon, a leading abolitionist in California

Leslie Stuart, another famous musical figure

William Vincent and Eliza Wallace, Rock Stars of 19 century

Edward Whelan, Father of Canadian Confederation
Price including postage
Ireland:  €29

UK: €30

Rest of World:  €34
Signed copies available online from
www.NorthMayoGenealogy.com (click on Bookstore)
Some books (Mayo's Forgotten Famine Girls, and Ballina, One Town, Three Wars & More) also available from kennys.ie
Copies of Mayo's Forgotten Famine Girls and Ballina, One Town, Three Wars and More (it deals with WWI, The War of Independence and the Irish Civil War and the people involved over the north Mayo area and beyond) can be obtained from www.kennys.ie  who post throughout the world. Kennys offer most competitive prices including worldwide postage. MayoBooks.ie also offer similar service. Both highly recommended. Books are signed.  Some stockists who were out of my books (Amazing Mayo Stories, On A Wing and a Prayer, Dear Old Ballina, Mayo's Forgotten Famine Girls,  Ballina, One Town, Three Wars and More, A Rambling Tour Through Dear Old Ballina,  and The Green Above The Red) have been restocked for Christmas/New Year: These include The Book Shop in Westport, Castle Books, Castlebar, Ireland West Airport Knock, Easons of Ballina and Castlebar, North Mayo Heritage Centre at Ennioscoe, Crossmolina.
See further details at wwww.terry-reilly.com  
Festive greetings to all readers throughout the world.
Enjoy These Great Books – Wonderful Gifts for anyone with Ballina/Mayo/West of Ireland connection
NEW! NEW!! NEW!!

Mayo's Forgotten Famine Girls  – From Workhouse to Australia (1848-50) & Convict

"Finally getting around to emails, etc sent over Christmas period re Mayo's Forgotten Famine Girls. Let me share three from overseas…"The book is wonderful…your knowledge of Ireland's rich history and dedication to the research involved in beyond amazing!" S.H. Buffalo, New York

"Your creative mind has brought to light a period in Irish history which shows the strength of Irish character. You have made my year." Laurie Thompson, Melbourne

"0n receiving the book in the mail I sat for hours browsing through a really engrossing book. It's so sad and yet so beautiful." C.A, Australia

Mayo's Forgotten Famine Girls tells the story of 137 youngsters from Mayo, the majority orphans, sent to Australia from Irish workhouses 1848-50. The girls speak and through their voices we learn of their dreadful famine experiences, workhouse life, the voyage to Australia, and what became of them. Based on fact and extensive research.

Of the book, former President Mary Robinson says: "I recall being moved by seeing the memorial to Irish orphan girls in Australia in 2002, but Terry Reilly has done more to restore their dignity and worth with a poignant account of the stark circumstances, and how these girls coped with both resilience and courage."

Leading historian Turtle Bunbury describes the book as featuring "real people, real events from the Irish Famine and how the resilience of the orphan girls shone through in the end in far away Australia".

One of the great experts on the orphan girls story, Australian historian and writer, Trevor McClaughlin in tribute says: "A lifetime's labour of love that is so compelling you can relive the young women's sadness, and their dreams."

My Mayo's Forgotten Famine Girls" is indebted to many people and many websites and three in particular:

Barbara Barclay's research at http://mayoorphangirls.weebly.com/

Trevor McClaughlin's  blog at https://earlgreysfamineorphans.wordpress.com/ 

and Trevor McClaughlin's and Perry McIntyre's work at http://irishfaminememorial.org/

Available In local shops:

Ballina: Easons, Pastoral Centre and Jackie Clarke Collection

Foxford: Foxford Woollen Mills

Castlebar: Castle Books, Easons and Country Life Museum

Charlestown: Knock Airport

Westport: Seamus Duffy and MacLoughlins

Belmullet: Lorraine Careys

Kennys.ie – the online bookstore of Kennys Bookshop, Galway, Ireland.

Rare and Recent Books, Cong, Co Mayo

Limited edition Hardback, all copies signed by author. 360 Pages.

Kindle edition updated at regular intervals as research continues.

Temporarily unavailable while content is being updated.

Ballina – One Town, Three Wars & More

432 pages of life in the Ballina/North Mayo/West Sligo and further afield. Hardback with photos and multimedia links (QR coding) to relive the moment. Really special production with comprehensive Index. It will surprise, shock, inform and entertain the reader with a narrative covering the period of your parents and grandparents. Digital version also available to download (choose from PDF, epub and emobi).

Hardback price includes postage and packaging worldwide.

PRICE BUSTERS TO MAKE WAY FOR NEW BOOK.
All prices include p&p. An opportunity not to be missed as prices slashed.
Wonderful gift for anyone with any connection to the town  of Ballina and district.

NEW: FANTASTIC OFFER NEWS:

Those wishing to buy a copy of either or both of my two latest books, Mayo's Forgotten Famine Girls -Sent to Australia 1848-50, and Ballina, One Town, Three Wars and More should avail of exceptional purchase-and-mail offer now available through www.kennys.ie ….. all for 25 euro per copy worldwide. Unbeatable!  In shops book actually cost 25 euro, so postage and packing essentially comes FREE. Ideal for anyone wishing to send a copy to a friend overseas, or receive a copy themselves without having to leave own house.  All copies are signed by author, Terry Reilly. Ideal for those Christmas gifts. My other books are available at www.terry-reilly.com and at outlets as listed . See www.terry-reilly.com for details.
Amazing Mayo Stories: Total €20
Wing and Prayer: Total €20
Dear Old Ballina: Total: €20
Green Above The Red (Compilation of Mayo's greatest Football Triumphs, 1985.  €15
Rambling Tour of Dear Old Ballina (with street maps, etc)  €9
DVD: Ballina:  The Town We Love So Well  (wonderful tales and songs on this marvellous history tour).  €8
Browse and buy Terry Reilly's collection of published books, which are all available for sale via PayPal.
Digital photographs of landmarks in Ballina, and surrounding regions are available from my collection, with accompanying historical text.
Visit the blog of Terry Reilly and browse through a vast selection of articles on a large selection of topics.
IMPORTANT! CHRISTMAS ORDER NOTICE: All Orders for Christmas MUST be with author by December 4th. No book despatches for Christmas/early New Year after that date.
On a Wing and a Prayer! An ideal Xmas Present! Signed copies of the book (and other books by Terry Reilly) …for paypal facilities see The Books Section Of This Site Also on sale Castle Book Shop, Castlebar; Easons and Clarkes, Ballina, Knock Airport and Knock Shrine.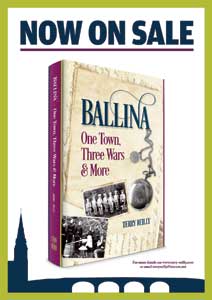 HIGHLY RECOMMENDED
432 pages of life in the Ballina/North Mayo/West Sligo and further afield. Hardback with photos and QR coding to relive the moment. Really special production with comprehensive Index. It will surprise, shock, inform and entertain the reader with a narrative covering the period of your parents and grandparents.
Digital download version – Printed hardback version
About Terry Reilly
Terry Reilly is a native of Ballina, population 10,000, in North Mayo in the province of Connaught. Editor of the Western People for nearly 30 years, his first book, The Green Above The Red, (1985) written in association with the late Ivan Neill, chronicles the successes of Mayo Gaelic games. Again, rare photos as great deeds of our football heroes leap from the pages.
Latest Blog Posts